This is the 16th book in the installment and the first book in the Psy/Changeling Trinity series.
This book is about Silver Mercant and Valentin Nikolaev, alpha of the StoneWater bears.
You can read the first chapter here.
Synopsis
Edit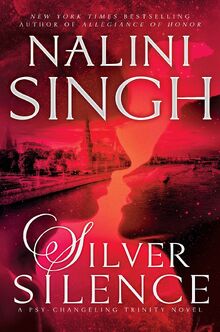 Control. Precision. Family. These are the principles that drive Silver Mercant. At a time when the fledgling Trinity Accord seeks to unite a divided world, with Silver playing a crucial role as director of a worldwide emergency response network, wildness and chaos are the last things she needs in her life. But that's exactly what Valentin Nikolaev, alpha of the StoneWater Bears, brings with him.
Valentin has never met a more fascinating woman. Though Silver is ruled by Silence—her mind clear of all emotion—Valentin senses a whisper of fire around her. That's what keeps him climbing apartment buildings to be near her. But when a shadow assassin almost succeeds in poisoning Silver, the stakes become deadly serious…and Silver finds herself in the heart of a powerful bear clan.
Her would-be assassin has no idea what their poison has unleashed…
Characters
Edit
Main Characters:
Recurring Characters:
New Characters:
Anastasia "Stasya" Nikolaev
Nova
Nika
Pavel Stepyrev
Yakov Stepyrev
Galina Evanova (valentine, Stasya, Nova and Nika's mother)
Others:
Dewei Nguyen - Psy. Mated to a StoneWater bear pre-silence. Passed away thirty-three years ago. (pg 65)
Community content is available under
CC-BY-SA
unless otherwise noted.