W E L C O M E
The Psy/Changeling-world is a book series set in an alternative universe written by author Nalini Singh. The universe is set on Earth, but with three races. There are humans, changelings, who can shapeshift into animals, and Psy, who have mental abilities. The Psy have been the predominant global leader since the dawn of Silence in 1979, and it's been a hundred years since then. Their arrogance is starting to make their power slip...
This series is set in a fascinating science-fiction world with an erotic romance featured in every novel. Recommended for all lovers of romance, science fiction, and fantasy!
The latest installment of the book series, Last Guard, was released on July 20, 2021.

This wiki is under construction and actively seeking editors. If you have read the books, feel free to join wikia.com and start editing the articles. Hopefully it'll become the online equivalent to the Psy/Changeling-bible Nalini often refers to!

You can further follow Nalini at her blogspot, on Twitter, or at Instagram. It is highly recommended that you sign up her newsletter, as it contains update on upcoming books as well as short stories set in the Psy/Changeling universe! To connect with other fans you can join the NaliniSinghBooks subreddit or the GoodReads Nalini Singh Fans group.

For chronological reading order, go here.
B O O K S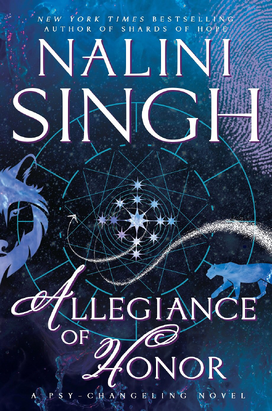 Psy/Changeling series

Psy/Changeling Trinity Series

Novellas:
You can use the top menu to navigate, or investigate the follow page categories: Books/Novellas/Collections, Characters, Concepts, Organizations, Psy-related articles, Changeling-related articles, Human-related articles